Constantly Raising the Bar and Setting New Industry Standards
At HASON, we are a powerful manufacturing force with a mission to leverage the latest technology in order to meet our valued clients' most stringent demands in terms of precision and turnaround – all in compliance with the highest quality standards.
Our vision is to be recognized within our markets as a world-leading fabricator, delivering unsurpassed technical quality and specialized technology.
At HASON, we and our entire staff are dedicated to supporting and maintaining a quality management system to:
Ensure employees and suppliers embrace best practices
Constantly improve our methods and processes in order to deliver products and services that cater to our clients' expectations and that meet strict deadlines
Implement and uphold an efficient quality management system, in accordance with ISO 9001:2015 and ASME requirements.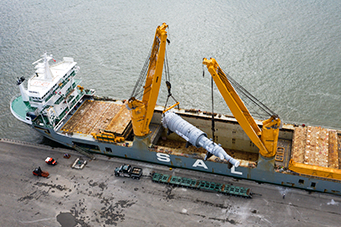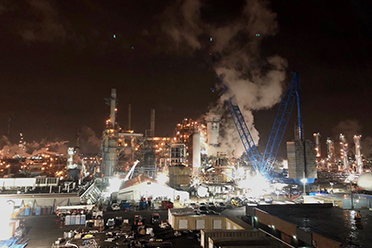 The Making of a World-Class Manufacturer
Established in 1983 in Berthierville, Quebec, HASON has quickly become a global leader in manufacturing pressure vessels and process equipment for the petrochemical, refinery and steel fabrication industries.
Denis Blain, CEO, and Dang-Loc Nguyen, Vice President and Head of Engineering, acquired the company in 2003. A third shareholder – the $100 million Quebec Manufacturing Fund – was added in 2010.
Growing Strategically
The new ownership spurred the company's strategic development and led to the construction of a 100,000 sf plant in Lanoraie, northeast of Montreal, in 2011. This included a research lab, an exclusive robotic welding station and a leading-edge ERP system. It also provided further impetus for HASON's market expansion. Building on this momentum and the strategic role of refractory materials in FCC components, the company ramped up investment. Today, HASON is a globally recognized industry leader, with a seat on the American Petroleum Institute's Board of Directors.
The Power of Global Reach
In 2020, HASON opened a second 12,000 sf plant in Trois-Rivières, in central Quebec , for an investment of $5 million. This considerably increased production capacity and paved the way for a new stage in the company's development, with a focus on complex large-scale assemblies and pressure vessel fabrication.
This new facility is strategically located less than a kilometre away from a federal deep-water seaport, thereby providing HASON even greater access to the world market.